Happy third Birthday, Woop!
The time has come to celebrate our third birthday! We are celebrating it this week. The official date is tomorrow, but we have some things to say beforehand, as it was formed a little earlier, and the dates are imprecise.
Woop has gone through a lot with its brilliant players of Sauerbraten and AssaultCube. We had many fun times and some sad times, but we never ceased to move on, whatever the situation.
As a special occasion, we bring you the famous Woop Clan Fragfest this week across Europe, Americas and Oceania!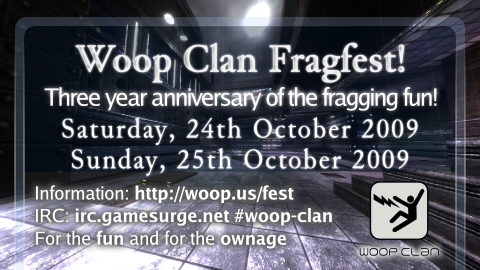 Happy third Birthday, Woop!
---
Posted on Tuesday, 20th October 2009 by Drakas